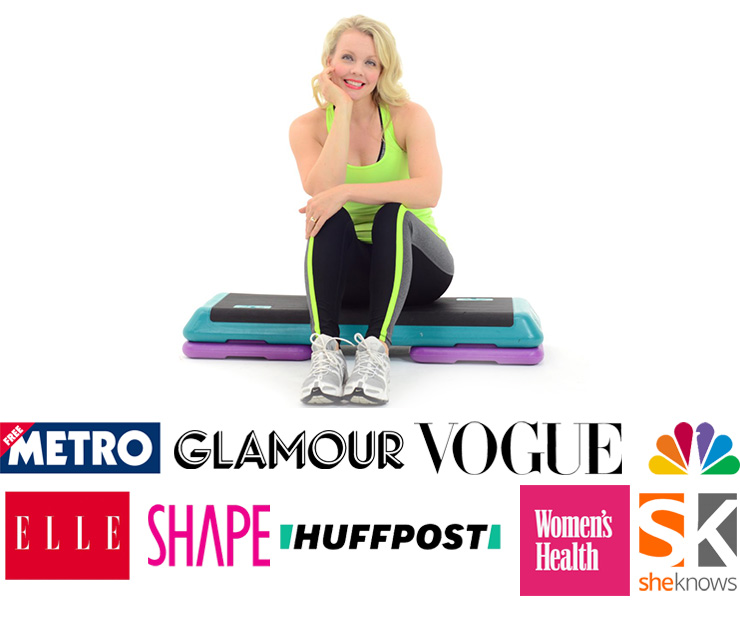 Jenny Ford's Certifications/Experience:
AFAA-certified Group Fitness Instructor
ACE-certified Health Coach
Yoga Intructor RYT 200
Certified Grief Educator
Grief Movement Specialist
BarreAbove, Boot Camp Start Fitness, TriggerPoint, Stages Cycling, BOSU, ZUMBA
Jenny Ford FItness YouTube channel 19,000,000 Views and 128,000 Subscribers
Marriage and Family Therapy master's program
Featured in the Following Prominent Media Outlets:
Television Appearances:
Studio 5 segment with Brooke Walker promoting Jenny's Pregnancy Workout Program found on, YouTube, the Freedom.Fit website and Freedom.Fit App.
Commercial for Workouts sponsored by Select Health for the KSL TV App:
Jenny's Checkout Workout 30 Day Workout System is used by the University of Texas at Austin for its employee wellness program.
Interview with ACE Fitness Fitness Expert Shannon Fable:
Front Page Cooking Segment on Amazon Live:
Articles, Blogs, and Sites (Social Media) Jenny's Workouts have been Featured in:
The Best Fitness Trainers on YouTube
The 50 Best Free Workout Resources You Can Find Online
17 Best YouTube Videos for Workouts at Home
The Beginner's Guide to Step Aerobics for Women: Tips and How to Advice
4 More YouTube Channels for Seniors
How to train for free in the house: 7 YouTube channels to stay in shape
The 27 Best YouTube Fitness Channels: Free Workout Videos
Best Kid Friendly YouTube Workouts to get your Kids Moving
10 Great YouTube Fitness Channels to Follow
Step Aerobics Steps Back onto Campus-Whitney High
5 Fun (and Free) Workout Videos
The Best Free Exercise Workouts Videos Online
Articles (Media) Including Jenny as a Fitness Expert:
Inspiring the World Through Group Fitness with Jenny Ford
Jenny Ford Breaks Down Strength Training: Could a Weight-Training Program be Your Solution to a Healthier Life?
3 Ways Jenny Ford Will Help You Get in Shape
4 Quick and Easy Pregnancy Workouts for Your Entire Body
Style Craze – 3 Best Aerobics Tips Fitness for the Rest of Us – Interview with Jenny Ford
Collaborations with Top Industry Fitness Professionals:
Find the full 35-minute workout with Kathy Smith and Jenny Ford on Freedom.Fit
Cardio Workout Sponsored by Select Health:
Marching Workout with Cardio Bursts (sponsored by Select Health)